Ryan Lien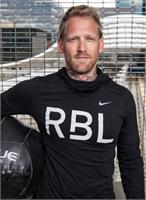 Ryan Lien has always been a REBEL, forever on a quest to challenge norms and learn new things - from the modalities of movement, to the hunt for the perfect coffee bean. A certified trainer for over a decade, he's meticulously studied the human body and developed his own unique, results-oriented training style (and cult-following). Sometimes with a bullhorn, sometimes without, it's always a good time watching Ryan easily break down even the fittest person into a sweaty pile on the floor - all while cracking jokes and having fun. Ryan is the REBEL who studies, teaches, and masters all he sets out to achieve, and helps his clients do the same. A veritable poster child for a fit and healthy lifestyle, his commitment to his clients, classes and REBEL community are unparalleled. Together with his wife and REBEL in crime Melissa Levy, this dynamic duo makes health and wellness pure, real, and fun.
Ryan Lien instructs the following:
This 50 minute classes challenges every major muscle group in the body, REBEL pushes limits, testing your strength, will, and mental toughness. An ever-changing combination of movements, exercises and equipment, REBEL delivers a mind-blowing strength and cardio session. Kettle bells - check. TRX straps - check. Battle ropes - check. Did we mention weight sleds? Heart pumping and sweat streaming, Rebel will put hair on everyone's chest. So bring it, beat it, and brag about it!