Heidi Hamill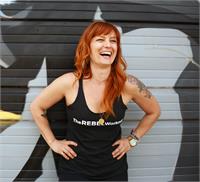 Sweet on the outside, spunky, spitfire on the inside! Heidi trains you to take on everyday adventures and challenges with gusto. A long time outdoor enthusiast, dancer, and tassel wearing roller skater, Heidi's focus is on strengthening the entire body to be agile, flexible and resilient for activities done outside the studio. She has a knack for making your abs sore for days and will challenge you to think differently about your everyday activities.
Heidi Hamill instructs the following:
Low impact but big results. This 55 minute class, will change weekly with creative and comprehensive workouts to get you working hard without any jarring movements. The goal is to build strength, get your heart rate up and strengthen stabilizer muscle groups all while being kind to your joints. This class will include everything from strength training, functional movement techniques to Pilates and will always end with 8-10 minutes of stretching and myofascial release.

This class is great for anyone looking for a low impact workout that has a few extra bells and whistles. Perfect for those you that have been battling aches and pains, or know you need extra attention. Also Great for Prenatal and post-natal training.