Leanne Lang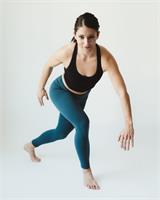 Leanne has an undeniable passion for fitness and health. She attended her first yoga class to regulate her body against stresses from working her corporate job staring at a computer and sitting all day. Yoga opened many doors for Leanne and she began to implement cycling/cardio and strength training into her fitness plan. Leanne believes in a sustainable fit lifestyle and enjoys working with clients to help them establish behaviors to help them reach their goals.
When Leanne is not teaching, she can be found working as an accountant, taking a yoga class, outside enjoying sunshine, traveling and going to live music shows.
Leanne Lang instructs the following:
Maximize calorie burn, build core strength and increase stamina in MOTOR(CYCLE). A mash-up of cycling, strength training and conditioning drills, where no two workouts are ever the same. Get ready to mix it up with weights, resistance bands, kettle bells, TRX straps and a whole lot more. After class, shake it off in our "whimpering room."




This 45-minute carefully choreographed rhythm ride is high-intensity ride set to the beat of the music. Challenging and fun, combining hills, flats, and sprints for an excellent cardio-focused interval training workout with some sneaky core moves on the bike. The finisher will be 10 minutes of off-the-bike core burning and strengthening!




Where can you get sprint intervals and grueling climbs of a killer cycle class followed by a 30 minute yoga sequence to lengthen the muscles that were just worked. Improve posture, stamina, and flexibility, and achieve ultimate control and balance within your body with this heart pounding fusion class.