Roger Martin-Pressman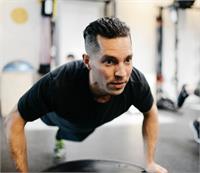 Roger Martin-Pressman is a vivacious instructor, whose classes exude his years of experience in fitness, movement and yoga. Roger has a balanced approach that has guided is own wellness evolution, he blends athleticism, sustainability, mobility, and the newest research in movement together into one incredible package.
Roger is our renegade early morning instructor, if you like to train early you'll be lucky enough to join him. Don't miss this class!
Roger Martin-Pressman instructs the following:
This 50 minute classes challenges every major muscle group in the body, REBEL pushes limits, testing your strength, will, and mental toughness. An ever-changing combination of movements, exercises and equipment, REBEL delivers a mind-blowing strength and cardio session. Kettle bells - check. TRX straps - check. Battle ropes - check. Did we mention weight sleds? Heart pumping and sweat streaming, Rebel will put hair on everyone's chest. So bring it, beat it, and brag about it!