Michael Bales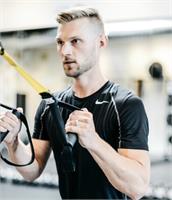 New to Denver, coming all the way from LA, Michael brings an impressive history – he's been a celebrity trainer, a Speedplay Class instructor, and an Equinox Tier 3 personal trainer! Michael is a triple threat – he carries multiple certifications including NASM and he loves to work with clients in correctly programing their exercise and nutrition regimens, he's a Corrective Exercise Specialist who is able to identify muscle imbalances and safely correct them. Michael's mission is to extend his knowledge and enthusiasm for fitness and nutrition to everyone he meets, and he can't wait to meet all of our awesome REBELS!
Michael Bales instructs the following:
This 50 minute classes challenges every major muscle group in the body, REBEL pushes limits, testing your strength, will, and mental toughness. An ever-changing combination of movements, exercises and equipment, REBEL delivers a mind-blowing strength and cardio session. Kettle bells - check. TRX straps - check. Battle ropes - check. Did we mention weight sleds? Heart pumping and sweat streaming, Rebel will put hair on everyone's chest. So bring it, beat it, and brag about it!