Alejandra Morse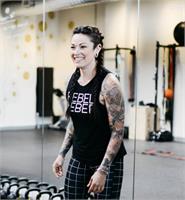 Alejandra's main focus is to help you find and embrace your inner REBEL with a great emphasis on form and functional training. She believes that within us all there is a resident badass, just waiting to be unleashed. Beginner to advanced, she's got you covered in a variety of modalities with challenging and obtainable goals. Both outside and inside of the gym, she'll geek out on music with you. She's and enthusiastic supporter of taco Tuesdays (also Wednesdays, Thursdays, and Fridays). If you're out on a bike ride together she'll challenge you to a race, leave you in the dust, and hug you afterwards.
Alejandra Morse instructs the following:
This 50 minute classes challenges every major muscle group in the body, REBEL pushes limits, testing your strength, will, and mental toughness. An ever-changing combination of movements, exercises and equipment, REBEL delivers a mind-blowing strength and cardio session. Kettle bells - check. TRX straps - check. Battle ropes - check. Did we mention weight sleds? Heart pumping and sweat streaming, Rebel will put hair on everyone's chest. So bring it, beat it, and brag about it!




Low impact but big results. This 55 minute class, will change weekly with creative and comprehensive workouts to get you working hard without any jarring movements. The goal is to build strength, get your heart rate up and strengthen stabilizer muscle groups all while being kind to your joints. This class will include everything from strength training, functional movement techniques to Pilates and will always end with 8-10 minutes of stretching and myofascial release.

This class is great for anyone looking for a low impact workout that has a few extra bells and whistles. Perfect for those you that have been battling aches and pains, or know you need extra attention. Also Great for Prenatal and post-natal training.