Jodi Bell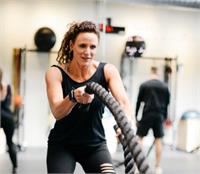 Jodi's super power is motivating those around her! She's been a certified trainer and group instructor for over a decade and her experience and knowledge shines in everything she does. If you haven't taken a class with Jodi, what are you waiting for??
Jodi Bell instructs the following:
You want results and we know how to get them... designed as a sweat-fest combination of intense cardio conditioning followed by core burning moves to improve stability and posture leaving you with a tight and toned midsection!




This 50 minute classes challenges every major muscle group in the body, REBEL pushes limits, testing your strength, will, and mental toughness. An ever-changing combination of movements, exercises and equipment, REBEL delivers a mind-blowing strength and cardio session. Kettle bells - check. TRX straps - check. Battle ropes - check. Did we mention weight sleds? Heart pumping and sweat streaming, Rebel will put hair on everyone's chest. So bring it, beat it, and brag about it!




Our signature REBEL class followed by 10-15 minutes of mobility work using lacrosse balls, straps, foam rollers and more to release tension in fascia and muscle. Increase range of motion and leave feeling relaxed and ready to rock.




REBEL IRON is a muscular workout to push your lifting edge. This class will focus on strength using equipment like barbells, kettle bells and free weights. There is a major emphasis on form and proper mechanics so be ready to learn and lift!