Gina Portolese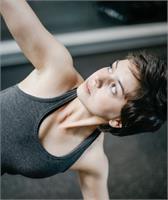 If Gina had a mantra it would be live fiercely! This chick works her butt off in the gym. She brings a quirky and spunky attitude to all of her classes.
Gina Portolese instructs the following:
REBEL IRON is a muscular workout to push your lifting edge. This class will focus on strength using equipment like barbells, kettle bells and free weights. There is a major emphasis on form and proper mechanics so be ready to learn and lift!