Gina Portolese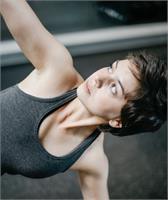 If Gina had a mantra it would be live fiercely! This chick works her butt off in the gym. She brings a quirky and spunky attitude to all of her classes.
Gina Portolese instructs the following:
REBEL IRON is a muscular workout to push your lifting edge. This class will focus on strength using equipment like barbells, kettle bells and free weights. There is a major emphasis on form and proper mechanics so be ready to learn and lift!




This 50 minute classes challenges every major muscle group in the body, REBEL pushes limits, testing your strength, will, and mental toughness. An ever-changing combination of movements, exercises and equipment, REBEL delivers a mind-blowing strength and cardio session. Kettle bells - check. TRX straps - check. Battle ropes - check. Did we mention weight sleds? Heart pumping and sweat streaming, Rebel will put hair on everyone's chest. So bring it, beat it, and brag about it!