kyle hilyard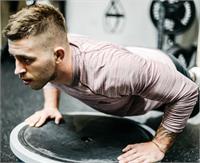 Whatever your fitness goals are, Kyle trains you to reach the next level. Focusing on form and movement while emphasizing stability, speed, and strength, Kyle believes that everyone is a competitor! His personalized approach combines functional fitness, Olympic lifting, plyometrics, and cardio boxing.
kyle hilyard instructs the following:
Build solid legs, stabilize your core, increase balance and so much more. Snow conditioning will get you in tip top shape for the coming season using ski and board specific intervals, calisthenics, agility and strength exercises.




This 50 minute classes challenges every major muscle group in the body, REBEL pushes limits, testing your strength, will, and mental toughness. An ever-changing combination of movements, exercises and equipment, REBEL delivers a mind-blowing strength and cardio session. Kettle bells - check. TRX straps - check. Battle ropes - check. Did we mention weight sleds? Heart pumping and sweat streaming, Rebel will put hair on everyone's chest. So bring it, beat it, and brag about it!