CYCLE + YOGA
This class is taught by: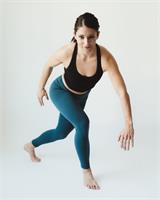 Leanne has an undeniable passion for fitness and health. She attended her first yoga class to regulate her body against stresses from working her corporate job staring at a computer and sitting all day. Yoga opened many doors for Leanne and she began to implement cycling/cardio and strength training into her fitness plan. Leanne believes in a sustainable fit lifestyle and enjoys working with clients to help them establish behaviors to help them reach their goals.
When Leanne is not teaching, she can be found working as an accountant, taking a yoga class, outside enjoying sunshine, traveling and going to live music shows.
Where can you get sprint intervals and grueling climbs of a killer cycle class followed by a 30 minute yoga sequence to lengthen the muscles that were just worked. Improve posture, stamina, and flexibility, and achieve ultimate control and balance within your body with this heart pounding fusion class.
Upcoming classes:
Sign Up

Tue

Dec 18 6:30 pm - 7:30 pm

with

Leanne

Lang




Sign Up

Tue

Jan 08 6:30 pm - 7:30 pm

with

Leanne

Lang




Sign Up

Tue

Jan 15 6:30 pm - 7:30 pm

with

Leanne

Lang




Sign Up

Tue

Jan 22 6:30 pm - 7:30 pm

with

Leanne

Lang




Sign Up

Tue

Jan 29 6:30 pm - 7:30 pm

with

Leanne

Lang




Sign Up

Tue

Feb 05 6:30 pm - 7:30 pm

with

Leanne

Lang




Sign Up

Tue

Feb 12 6:30 pm - 7:30 pm

with

Leanne

Lang




Tue

Feb 19 6:30 pm - 7:30 pm

with

Leanne

Lang




Tue

Feb 26 6:30 pm - 7:30 pm

with

Leanne

Lang




Tue

Mar 05 6:30 pm - 7:30 pm

with

Leanne

Lang




Tue

Mar 12 6:30 pm - 7:30 pm

with

Leanne

Lang




Tue

Mar 19 6:30 pm - 7:30 pm

with

Leanne

Lang




Tue

Mar 26 6:30 pm - 7:30 pm

with

Leanne

Lang




Tue

Apr 02 6:30 pm - 7:30 pm

with

Leanne

Lang




Tue

Apr 09 6:30 pm - 7:30 pm

with

Leanne

Lang




Tue

Apr 16 6:30 pm - 7:30 pm

with

Leanne

Lang