Vibe Yoga
This class is taught by: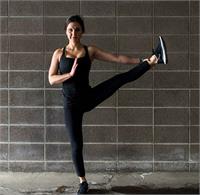 Brooke found her passion for yoga at a young age while sweating her butt off in a Bikram class. Quickly finding herself addicted to her mat, Brooke's love for the practice led her to becoming a 200hr certified yoga teacher in 2014. Yoga has become a cornerstone of how Brooke lives her life and she is deeply passionate about helping others fall in love with the practice. When not on her mat, Brooke owns an interior design business where she helps people fall in love with their home. Brooke strongly believes that we can all live the life of our dreams with a healthy body, a calm mind and a happy home.
Flow with soul! VIBE Yoga is a vinyasa style practice infused with core strengthening, a little bit of sweat & high-vibe tunes. This class is a moderate intensity, breath-to-movement flow with basic yoga postures that will warm you up and stretch you out. Come feel the VIBE. A yoga flow friendly to all levels.
Upcoming classes: