CARDIO + CORE
This class is taught by: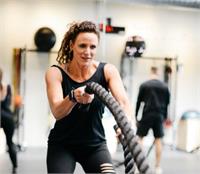 Jodi's super power is motivating those around her! She's been a certified trainer and group instructor for over a decade and her experience and knowledge shines in everything she does. If you haven't taken a class with Jodi, what are you waiting for??
You want results and we know how to get them... designed as a sweat-fest combination of intense cardio conditioning followed by core burning moves to improve stability and posture leaving you with a tight and toned midsection!
Upcoming classes: