BIKE & BARRE
This class is taught by: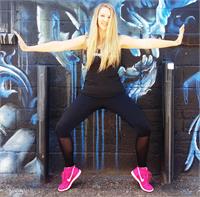 Heather Dettmann has been dancing since she could stand and started formal ballet classes at the age of three. She continued her classical ballet training, performing with Indianapolis Ballet Theatre, Ballet International, Jordan College Academy of Dance, and Milwaukee Ballet. After high school she moved to New York City for a summer with Steps on Broadway before attending college at the University of Wisconsin Madison. While pursuing an undergraduate degree in Biology, Heather joined the company at Madison Ballet. When she experienced a serious injury during her third season with the company she discovered a passion for restorative yoga, pilates, and barre. She quickly increased her involvement in teaching and found enormous joy in helping others heal, strengthen, tone, and explore movement. Heather's classes aim to create positive energy through movement and maintain a focus on alignment, influenced by her dance background. She believes that great workouts make us all happier people and is forever in pursuit of the perfect class playlist. In her spare time, Heather enjoys gluten-free cooking, hiking, snowboarding, running with her golden retriever, and planning travel adventures with her husband Dylan.
Build endurance, strength, and long lean muscles. Dynamic cardio sequences get your heart pumping on the bike and at the barre, targeting the seat, legs, abs, and arms, for sculpted and elongated muscles and a trim and toned physique. There's never a dull moment as you hit maximum calorie burn - zoning out is not an option.
Upcoming classes: