Did you guys follow along with Heather's Instagram Takeover yesterday?
That girl is a POWERHOUSE of energy! She wakes early, sweats it out first thing, hustles like a boss all day, and still fits in another workout in the evening. #cantstopwontstop
If you missed out on the live action, we're recapping it for you right here, but ... you'll probably want to check us out on social media anyway :). Find us on
Instagram
and
Facebook
!
5:30AM
: Hi! I'm Heather (aka @heatherdettmann) and I'm so excited to give you a peek into my day to day with my #Instagramtakeover. I've been a REBEL trainer for over a year now and have called Denver home for the last 5 years. I love the adventurous and welcoming spirit of Colorado, especially in the fitness community. When you're hanging with me it's all about balance - work hard, play hard, eat well, and move yo' booty. Thanks for following along today!
6:15AM
:
After some quick stretches and focused breathing, I'm finishing up one of the most important things that I do each morning - packing my gym bag. Because I usually go straight to my digital marketing job after teaching my morning class, it's crucial that I have everything that I need for the day. I literally live out of this thing. Must haves include: street clothes, a second set of workout gear, multiple pairs of shoes, hair slinkys, dry shampoo, and (of course) snacks!
7:50AM
: I teach a class almost every morning, and it's hands down the best way to start the day. Today's class was Bike+Barre; 25 minutes on the bike and 25 minutes on the barre and floor. The REBEL morning crew always comes in ready to WORK; beats pumping, legs shaking, sweat flying … and all before 8am! A quick selfie, then it's time to shower and grab an Americano before heading to the office.
5:15PM
: My digital marketing work keeps me pretty sedentary throughout the day, so I squeeze quick walks in whenever I can and always plan something active for the evening. Sometimes it's a REBEL class, teaching a second class, a quick hike, or yoga; tonight it's a run with my golden retriever Lola. We live in the REBEL neighborhood, so keep a look out, you might see us out running!
7:30PM
: My husband Dylan and I love cooking and we eat at home almost every weeknight, saving dinners out for weekend dates and meals with friends. Tonight's dinner is a quick go-to for us: seared free range organic chicken breasts topped with homemade pesto, organic jasmine rice, and roasted organic vegetables (baby asparagus, mushrooms, and zucchini). We roast a big batch of veggies at least once a week to use for meals throughout the week. We wash, dry, chop, toss with @chosenfoods avocado oil, season, and bake at 400F for 35-45 min. We'll definitely have leftovers from this dinner, which we'll both eat tomorrow for lunch.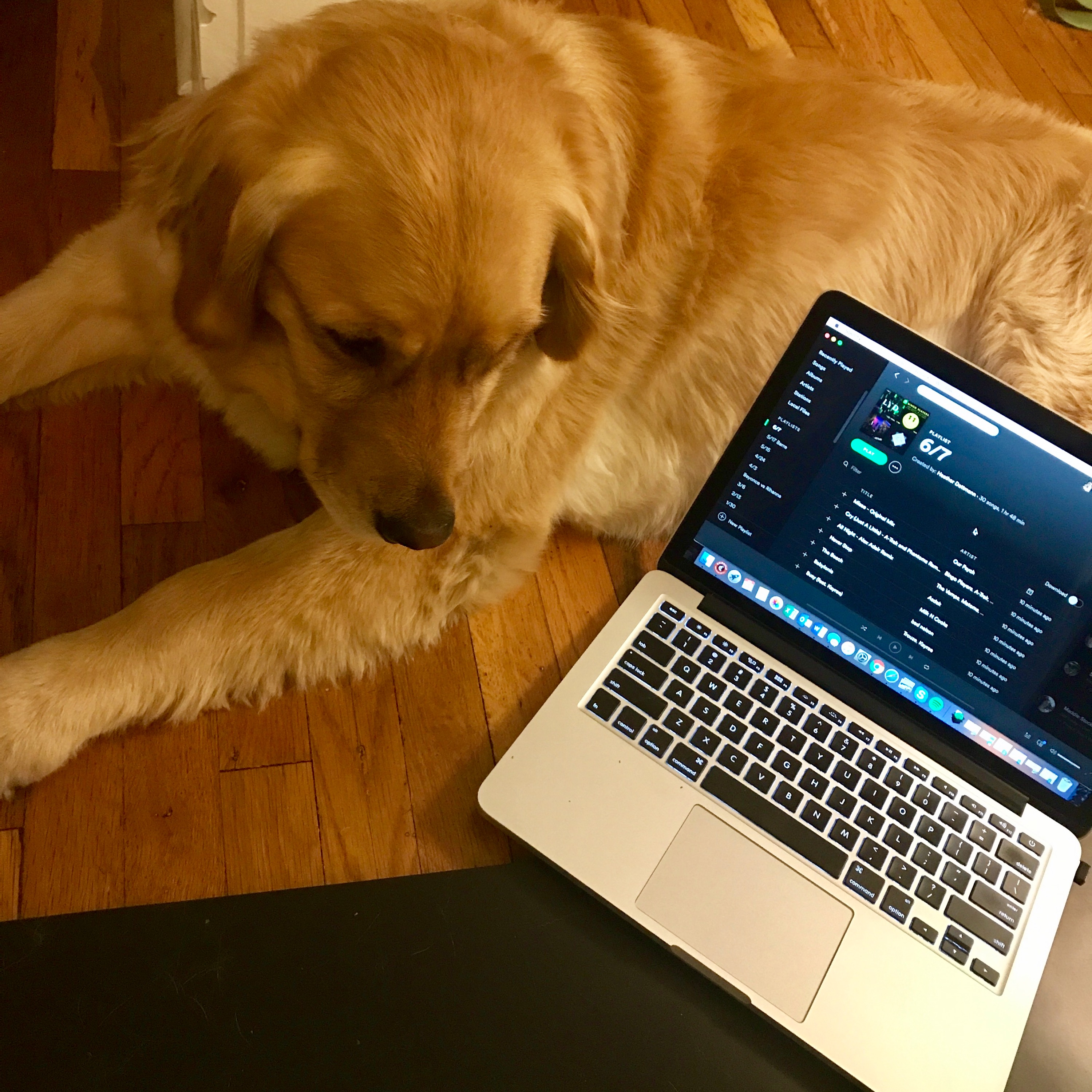 8:45PM
: After dinner, packing lunches for tomorrow, and a load of laundry, it's time to wind down. I roll out my yoga mat and move through a few poses and stretches before grabbing my computer and finding a comfortable seated position. Lola joins me, the floor is her domain, and I welcome the puppy cuddles. Tonight I'm adding a few more songs to a new class playlist and finishing up a post for my new blog Planks and Pinot (planksandpinot.com). Soon it will be lights out; rest, reset, and back at it again tomorrow! Thank you for following along today, I hope to see you in class soon!