Melissa Levy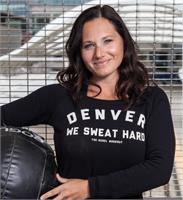 Before she became a fitness REBEL, The REBEL Workout founder Melissa Levy began her career as a pilates instructor. Twelve years in the fitness industry later, she's since expanded her education and is known around the world for her expertise in fitness, alignment and functional movement. Melissa encourages a balanced approach to fitness, wellness and health, and with The REBEL Workout, built a unique space where people can connect, feel supported and get inspired. While form and function are always top of mind, Melissa marches to the beat of a different drum, forever keeping her clients and cohorts on their toes. Merging tough love with unconditional devotion, she's constantly learning, evolving, and encouraging her team to do the same. The driving force behind the Fitness REBEL revolution, her extensive knowledge of the human body and a commitment to wellness offers a unique balance of physical fitness and smart nutrition for a healthy REBEL lifestyle.
Melissa Levy instructs the following:
A unique class that starts with a 50 minute REBEL workout followed by a 20 minute meditation led by Kat Kummer. This is Meditation for the non-meditator! Meditation has been proven to make you happy and healthier, it helps your brain, your focus and your relationships.

Kat is the founder of Harmony Healing Cherry Creek and has practiced Chinese Medicine and Acupuncture for nearly a decade. During that time she has also studied Eastern philosophy, yoga, breath work and many forms of meditation. Kat is on a mission to demystify meditation and make it available to as many people as possible.

"With the pace of modern life and the endless mind-chatter, it is vital that meditation is in your tool box for health and well-being. I will show you that there is no need to be intimidated by this word or this technique, and you will learn it's as easy as one breath at a time."




Challenging every major muscle group in the body, REBEL pushes limits, testing your strength, will, and mental toughness. An ever-changing combination of movements, exercises and equipment, REBEL delivers a mind-blowing strength and cardio session. Kettle bells - check. TRX straps - check. Battle ropes - check. Did we mention weight sleds? Heart pumping and sweat streaming, Rebel will put hair on everyone's chest. So bring it, beat it, and brag about it!