Heidi Hamill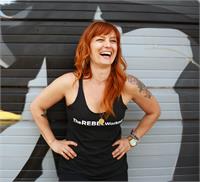 Sweet on the outside, spunky, spitfire on the inside! Heidi trains you to take on everyday adventures and challenges with gusto. A long time outdoor enthusiast, dancer, and tassel wearing roller skater, Heidi's focus is on strengthening the entire body to be agile, flexible and resilient for activities done outside the studio. She has a knack for making your abs sore for days and will challenge you to think differently about your everyday activities.
Heidi Hamill instructs the following:
Build endurance, strength, and long lean muscles. Dynamic cardio sequences get your heart pumping on the bike and at the barre, targeting the seat, legs, abs, and arms, for sculpted and elongated muscles and a trim and toned physique. There's never a dull moment as you hit maximum calorie burn - zoning out is not an option.




NOT another spin class…Hop on a REBEL CYCLE for an unpredictable, challenging and fun ride full of hardcore interval drills mapped for endurance, power and speed.