Dariusz Franczak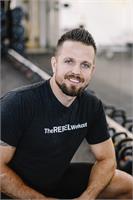 Say hello to Dariusz! He developed his passion for healthy living and exercise while serving in the United States Army. Dariusz has a knack for kicking serious butt and getting results in NO TIME! In his free time Dariusz enjoys mountain biking, hiking, climbing, snowboarding, working out, and walking his puppy.
Dariusz Franczak instructs the following:
This 50 minute classes challenges every major muscle group in the body, REBEL pushes limits, testing your strength, will, and mental toughness. An ever-changing combination of movements, exercises and equipment, REBEL delivers a mind-blowing strength and cardio session. Kettle bells - check. TRX straps - check. Battle ropes - check. Did we mention weight sleds? Heart pumping and sweat streaming, Rebel will put hair on everyone's chest. So bring it, beat it, and brag about it!