Alejandra DeOlivera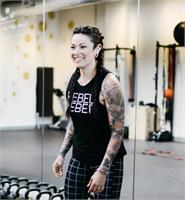 Alejandra's aim is to be a bringer of good vibes. She's a passionate
teacher & mother, and strives to be a lesson learner and grower in all
aspects of life. Her high energy classes are driven by music, beats,
strong fluid movements made with intention, fast paced runs, and high
intensity climbs. Whether on the bike or on the mat- her classes are
challenging, sweaty and are set to pump you up but to keep your mind
at zen. Beginner to advanced, she's got you covered.
Outside of the gym, she's an avid student of 80's and 90's pop and hip
hop culture, she's an enthusiastic supporter of taco Tuesdays (also
Wednesdays, Thursdays, and Fridays) and if you're out on a bike ride
together she'll challenge you to a race, leave you in the dust, and
hug you afterwards.
Alejandra DeOlivera instructs the following:
Challenging every major muscle group in the body, REBEL pushes limits, testing your strength, will, and mental toughness. An ever-changing combination of movements, exercises and equipment, REBEL delivers a mind-blowing strength and cardio session. Kettle bells - check. TRX straps - check. Battle ropes - check. Did we mention weight sleds? Heart pumping and sweat streaming, Rebel will put hair on everyone's chest. So bring it, beat it, and brag about it!




Maximize calorie burn, build core strength and increase stamina in MOTOR(CYCLE). A mash-up of cycling, strength training and conditioning drills, where no two workouts are ever the same. Get ready to mix it up with weights, resistance bands, kettle bells, TRX straps and a whole lot more. After class, shake it off in our "whimpering room."




Its all in the name. Half cycle, half core burning! BOOM... designed as a sweat-fest combination of intense cycle conditioning followed by core isolating moves to improve stability and posture leaving you with a tight and toned midsection!