charis cook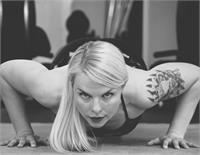 Charis is certified personal trainer, Pilates instructor, and Russian kettlebell instructor. She is also a functional movement specialist, using corrective exercises to prevent or rebound from injury. Charis is obsessed with all forms of movement and passionate about empowering people through strength and physical and mental toughness.
charis cook instructs the following:
This 50 minute classes challenges every major muscle group in the body, REBEL pushes limits, testing your strength, will, and mental toughness. An ever-changing combination of movements, exercises and equipment, REBEL delivers a mind-blowing strength and cardio session. Kettle bells - check. TRX straps - check. Battle ropes - check. Did we mention weight sleds? Heart pumping and sweat streaming, Rebel will put hair on everyone's chest. So bring it, beat it, and brag about it!