charis cook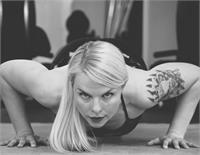 Charis is certified personal trainer, Pilates instructor, and Russian kettlebell instructor. She is also a functional movement specialist, using corrective exercises to prevent or rebound from injury. Charis is obsessed with all forms of movement and passionate about empowering people through strength and physical and mental toughness.
charis cook instructs the following:
Challenging every major muscle group in the body, REBEL pushes limits, testing your strength, will, and mental toughness. An ever-changing combination of movements, exercises and equipment, REBEL delivers a mind-blowing strength and cardio session. Kettle bells - check. TRX straps - check. Battle ropes - check. Did we mention weight sleds? Heart pumping and sweat streaming, Rebel will put hair on everyone's chest. So bring it, beat it, and brag about it!




REBEL IRON is a muscular workout to push your lifting edge. This class will focus on strength using equipment like barbells, kettle bells and free weights. There is a major emphasis on form and proper mechanics so be ready to learn and lift!




Where can you get sprint intervals and grueling climbs of a killer cycle class along with the core shredding, booty building, thigh sculpting perks of Pilates? Look no further than Cycle Pilates. Improve posture, stamina, and flexibility, and achieve ultimate control and balance within your body with this heart pounding fusion class.