jenny wetzel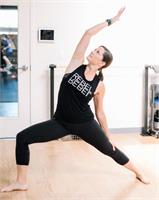 Jenny's passion is yoga, and it shows! From beginner to advanced, her classes focus on alignment and taking your practice to the next level. She teaches a perfectly balanced combination of strong and sweaty flow, and deeply grounding stretches. Jenny accommodates every student's physical strengths and limitations for a uniquely challenging yoga class.
jenny wetzel instructs the following:
Feel lighter and looser after this 30 minute stretch class. Relieve neck, back and hip pain, improve your range of motion and leave the studio ready to take on the day.

The effects of tight muscles and a tight body accumulate; long-term tightness restricts the flexibility of the joints, and can create full-body fatigue. Balancing out strenuous activity with stretching and mobility work is crucial, so join us and get your stretch on!




REBEL Yoga is a combination of yoga and light weight training. With a clear focus on alignment and slow and controlled movements you will stretch, tone and move to the rhythm of the yoga flow. The class combines traditional yoga poses with light weight training. REBEL Yoga is a chance for you to slow down and tune into each muscle group and is a great compliment to our faster-paced REBEL workouts.