REBEL + MOBILITY
This class is taught by: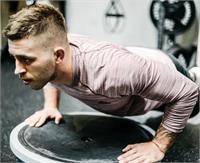 Whatever your fitness goals are, Kyle trains you to reach the next level. Focusing on form and movement while emphasizing stability, speed, and strength, Kyle believes that everyone is a competitor! His personalized approach combines functional fitness, Olympic lifting, plyometrics, and cardio boxing.
Our signature REBEL class followed by 10-15 minutes of mobility work using lacrosse balls, straps, foam rollers and more to release tension in fascia and muscle. Increase range of motion and leave feeling relaxed and ready to rock.
Upcoming classes: