REBEL + BOX
This class is taught by: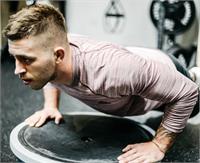 Whatever your fitness goals are, Kyle trains you to reach the next level. Focusing on form and movement while emphasizing stability, speed, and strength, Kyle believes that everyone is a competitor! His personalized approach combines functional fitness, Olympic lifting, plyometrics, and cardio boxing.
REBEL + BOX is high energy butt kicking at it finest. This class has all the challenges of our signature REBEL class with a boxing bonus. You'll push limits, testing your strength, will, and mental toughness all while learning new boxing skills and techniques. Don't be scared to give this combo class a shot.
Upcoming classes: