REBEL IRON
This class is taught by: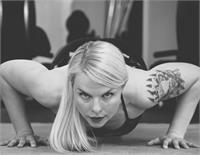 Charis is certified personal trainer, Pilates instructor, and Russian kettlebell instructor. She is also a functional movement specialist, using corrective exercises to prevent or rebound from injury. Charis is obsessed with all forms of movement and passionate about empowering people through strength and physical and mental toughness.
REBEL IRON is a muscular workout to push your lifting edge. This class will focus on strength using equipment like barbells, kettle bells and free weights. There is a major emphasis on form and proper mechanics so be ready to learn and lift!
Upcoming classes: